Radiation Safety Officer Training, Radwaste Disposal, and Nuclear Gauge Services for Industry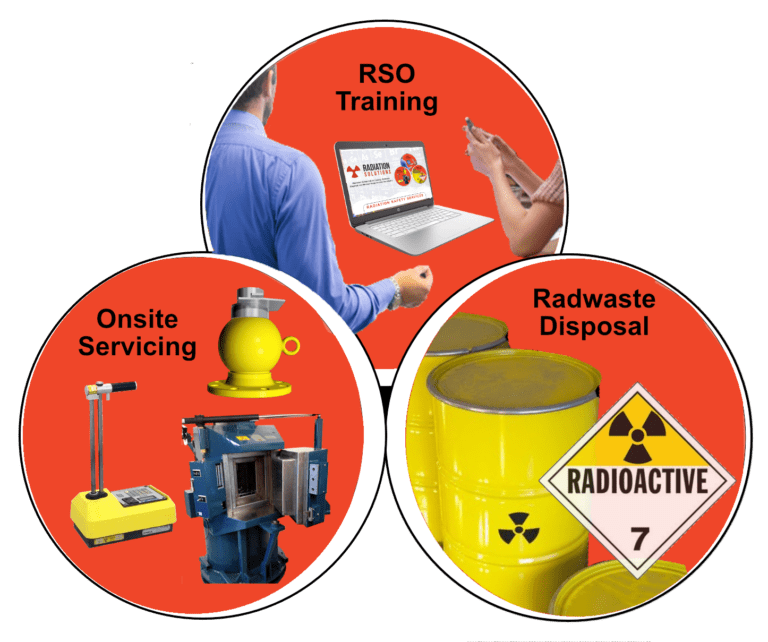 RADIATION SAFETY SERVICES
Radiation Solutions is a radiation safety services company that provides Radiation Safety Officer Training, Radwaste Disposal, and Nuclear Gauge Services for  regulatory compliance to NRC and state regulations.   We primarily serve industrial institutions that utilize fixed and portable nuclear gauges or irradiators in their operations.   Our company has over 50 years of experience and offers dependable and very cost-effective services to support your Radiation Safety Program. 
Radiation Solutions is available 24/7 to meet all your routine and non-routine nuclear gauge service needs.  We pride ourselves for our friendly, reliable, and dependable service. Learn more…
Our RSO training courses deliver curricula that meet all regulatory criteria for RSO and Authorized Users.  Each course is delivered in an  easy-to-understand  and relaxed manner.  Learn more..
Disposing radioactive materials can be complex and expensive.  Radiation Solutions strives to simplify and reduce costs through its cost-efficient, hassle-free process.  Learn more…
Radiation Solutions provides its nuclear gauge services  throughout the continental U.S. including its territories and jurisdictions. We have also supported Radiation Safety Officers in many other countries with our services and are available to travel worldwide.