RADWASTE DISPOSAL SERVICES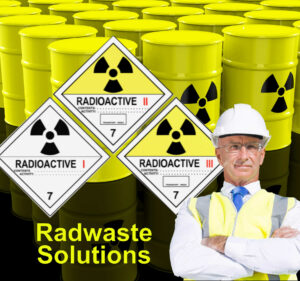 RADIATION SOLUTIONS' ADVANTAGES
•  Turnkey Disposal
•  Personalized Service
•  Simplified Approach
•  Low Cost
•  Short Burial Cycle
•  Nationwide Service
Radiation Solutions
is a low cost, full service, radwaste disposal provider for disposing radioactive materials.  Our disposal service includes dispositioning of your old and unused nuclear gauges, irradiators, radioactive signs, smoke detectors, check sources, flood sources, sealed radioactive sources,  and more.
As a radioactive waste broker, we understand that radwaste disposal can be a very complicated and expensive process.  Our knowledge of the industry, industrial waste disposal regulations, authorized disposal sites, and radiological expertise, help us to simplify this for you.  Focusing on your specific needs also enables us to be highly efficient and very cost-competitive.
We believe radioactive material disposal costs are already too high, so why pay more?  This is why we earnestly strive to seek the most cost-efficient and compliant disposition pathway possible for you.  Our focus on lower-cost nuclear gauge disposal and other non-routine gauge services has contributed to our growth and success.
Our radwaste disposal service ensures all your radioactive materials are buried at an
authorized disposal facility
in a relatively short period.  Once the source(s) are recovered, the official transfer of custody record paperwork is provided to you per
10 CFR 30.41
.